Photo Calendar Creator 17.0
Make your own
photo calendars
Get started with 250+ design templates
Highlight holidays and special dates
Add photos, collages, insert pics into cells
Print on 8.5x11, A4, or custom paper sizes
What can you do with our
calendar creation software?
Make a calendar that's all your own!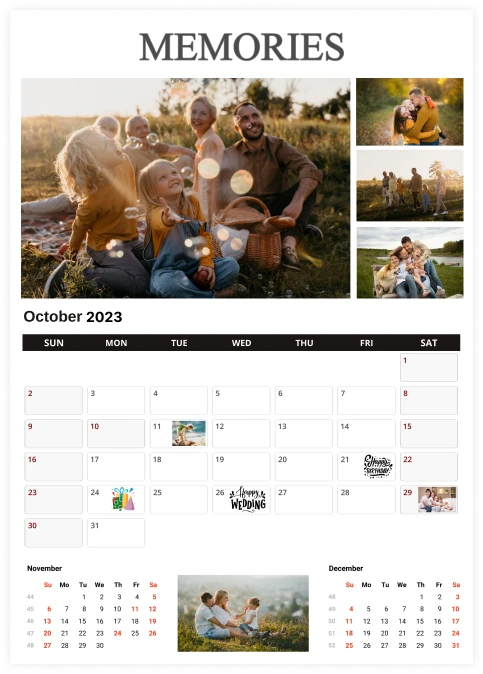 Add personalized captions anywhere you need
Choose from dozens of calendar grid designs
Highlight public holidays, your own special dates and recurring events
Use as many photos as you wish, make classic or freeform collages
Store family pictures in birthday database and add them into cells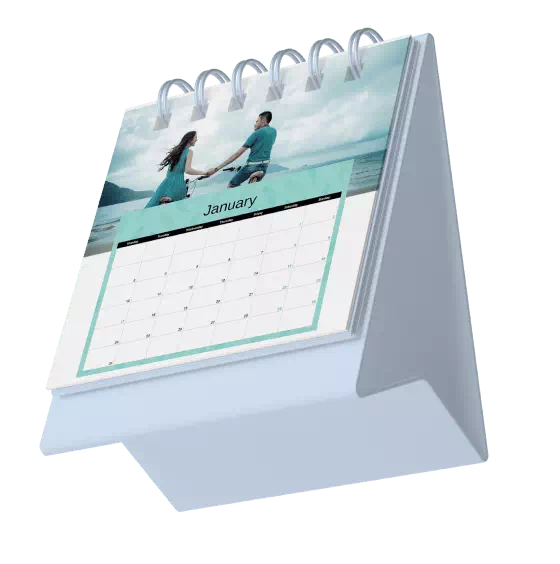 Need handy calendar making software?
Totally intuitive, packed with templates, suitable both for creative design and for last-minute projects, Photo Calendar Creator is a must-try. It will help you every time you need to make a printable family planner, a personalized photo gift for Christmas, a promo calendar for your business or charity - you name it.
Download Now
For Windows 11, 10, 8, 7
Making calendars is easy as 1, 2, 3!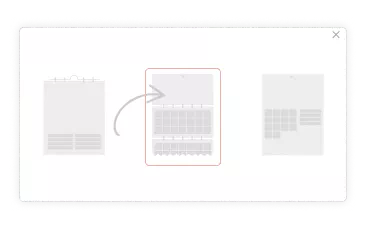 Step 1
Pick a calendar template
Choose the calendar type in the startup wizard - wall poster, monthly planner, desk calendar etc. Then pick the design template. Set the starting year and month, and the calendar size.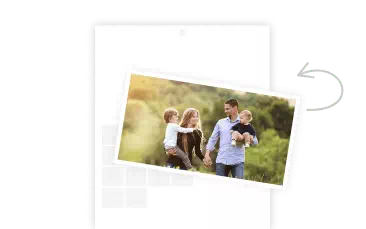 Step 2
Give it a personal touch
Upload your photos one by one or use the collage creation wizard. Add personalized captions and fun clipart. Arrange texts and images as you need with drag & drop. Decorate pictures with borders, frames, or masks.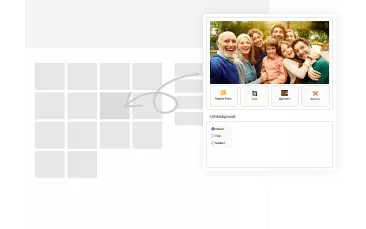 Step 3
Add holidays and events
Mark family birthdays, anniversaries, vacation dates, club or church meetings, workout sessions, kids' dance classes, and anything else you want! Customize the holiday cells with photos or clipart.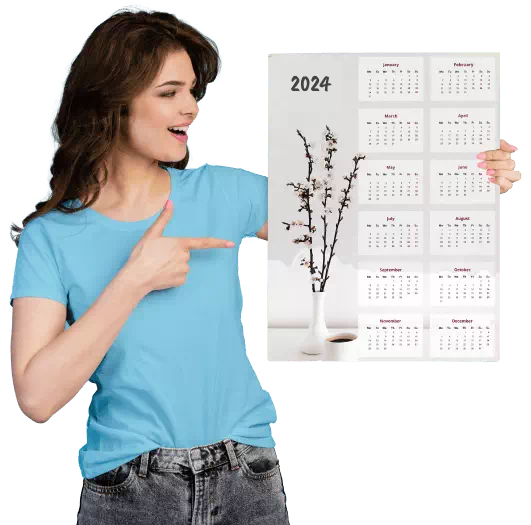 Want to make your own calendar for 2024?
Turn your meaningful photos into 12 pages full of memories and good vibes using a personalized calendar maker! Cherish precious moments all year long, and create truly personal family gifts.
Download Free
For Windows 11, 10, 8, 7
What's good about Photo Calendar Creator?
Life-long license
Use your purchased software for a lifetime to make an unlimited number of calendars.
Private & secure
No need to upload personal photos, names and dates online - you work with them right on your PC.
Always in time
Print at home or in local printshop. No risk of getting it too late due to a shipping company error.
Easy last-minute fixes
Printed the first copy and noticed a mistake? Fix it in your saved project without sending support requests.
Customer Reviews

Caroline Mackenzie
I LOVE this calendar making program. I make a USA Monthly calendar edition for my family in the United States and another for my family in Scotland U.K. Everyone loves it!!

Betty Gardner
I have made a Christmas calendar for our family of 9 children for the last 15 years or more. I found Photo Calendar Creator quite by accident and quickly bought the program after downloading a trial copy. It's amazing how user friendly it is and creates just the type of calendar I need. I have all the children's, 9 + spouses, 29 grandchildren + 5 spouses, wedding anniversaries of everyone that is married with their pictures plus all the holidays with cute pictures depicting that holiday. It's still a lot of work but my family loves it and it makes a great Christmas gift!

David Armstrong
My initial reaction was Wow! and, after a few uses, I have no reason to change my opinion. So easy to use once you look around what is available, and able to produce calendars of a very high standard. This is exactly the thing I was looking for to design my calendars.

Sandra Hayes
Overall, I love the software. I use it to make a family calendar each year which contains a collection of pictures from the prior year, sort of like a year in review photo album.

Lauren Osborne
Love the software. Easy to use and the editable templates are great. Being able to crop an image on the go when applying inbuilt frames and masks is really useful. I am having so much fun creating calendars. Thank you for an excellent product!

Sean Riley
I must say that this picture calendar creator is a great piece of software. It fulfilled my needs to make a, hopefully, nice calendar. Keep on the good work!
What's new in Photo Calendar Creator 17.0?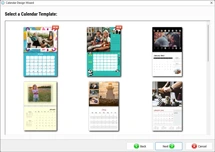 10 brand new design
templates for 2024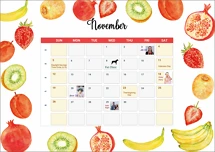 Stylish calendar cells
with rounded corners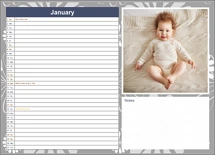 Convenient month tables
with lines for notes